2009 California Grand Master Larry L. Adamson
Friday, June 5th, 2009 at 3:38 PM
Grand Master's Biographical Sketch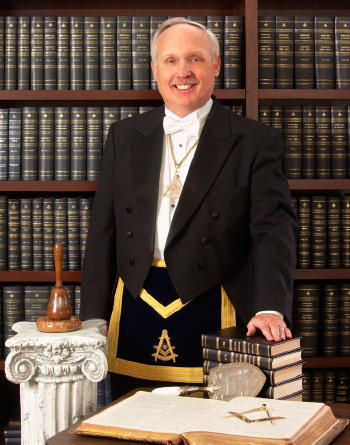 Larry L. Adamson
A native Californian and fifth-generation Mason, Most Worshipful Larry L. Adamson was raised a Master Mason on February 27, 1973, in Triangle Lodge #548.  He affiliated with his father's Lodge, Palms-Adams #512, where he served as its Master in 1989, and which later consolidated and became Sunset Lodge #369 in Santa Monica.  In 1998, he became a plural member of Old West Lodge #813 in Newhall near his home. Most Worshipful Adamson began his affiliation with our Craft when he joined the Order of DeMolay in 1965.  He is a Past Master Councilor, Past League President, and holds the honors of Chevalier and the Legion of Honor.  Additionally, he served the order as a Chapter Advisor for five years and a League Advisor for three years, is a Past Dean of the Southern California Preceptory, and served for five years as the Associate Bethel Guardian of Bethel #249 in Newhall, International Order of Jobs Daughters.
He has a distinguished career of service with our Grand Lodge, spanning over twenty years.  He has served as a Trustee of our Masonic Homes and was the inaugural President of our Acacia Creek Adult Living Corporation.  He served Most Worshipful
R. Stephen Doan as Grand Marshal in 1992, and Most Worshipful David Decker in 2000 as Grand Orator.
He was responsible for the restructuring of our leadership programs during his tenure as Chairman of the Leadership Development Committee and served as Chairman for our Sesquicentennial Year Committee and Chairman of the Research Committee.  He has served on many other committees and regularly instructs at our Lodge Management Certification Workshops, Wardens Leadership Retreats and Inspectors Seminars.  He has also served on the California Masonic Foundation, CMMT and Nob Hill Corporations.
Most Worshipful Adamson is a member of Eastern Star, the Scottish Rite, York Rite and Shrine.  In Scottish Rite, he was the Venerable Master of the Lodge of Perfection in the Valley of Los Angeles, and in 2003 was coronated a 33rd  Degree Inspector General Honorary.  He is a member of all three bodies of the York Rite and served as Grand Orator for the Grand Council of Cryptic Masons in 2004.  He is a member of St. Gabriel Conclave of the Red Cross of Constantine, the San Juan de Los Angeles Council, the Allied Masonic Degrees, the National Sojourners and Heroes of 76.  He is a member of Al Malaikah Shrine Temple where he currently serves on the Los Angeles Shrine Hospital Board.  In addition, he is a Past President of the Southern California Past Masters' Association and a member of the Royal Order of Scotland.
A graduate of California State University, Los Angeles, Larry served as President of the Statewide Alumni Council which represents the 23 campuses of the California State University System, and in 1996 was named as its Alumni Volunteer of the Year.  In December, 2004, he was appointed to the very prestigious position of Trustee of the California State University System which is responsible for education policy and governance over the system's 480,000 students.
He was District Chairman for the Los Angeles Council of the Boy Scouts of America, and President of the Los Angeles Morning Rotary Club.  In January of 2005, the Los Angeles County Board of Supervisors confirmed Most Worshipful Adamson to serve as Commissioner of the Los Angeles Homeless Services Commission, which he chaired in 2007 and 2008.
Most Worshipful Adamson is currently the President and CEO of the Midnight Mission, the preeminent social service agency serving the poor and homeless in Los Angeles.  Before that, he completed a very successful 23-year career with the Automobile Club of Southern California where he retired as Vice President of Administration and Automotive Services.
Larry and his wife Lynn met in high school and live in Santa Clarita, a community just north of Los Angeles.  They have been married for 35 years and have two married daughters, both of whom are elementary school teachers and are majority members of Jobs Daughters Bethel #249, Newhall.  They have two grandsons and a granddaughter, and the Most Worshipful is honored to have two sons-in-law that are members of Old West Lodge #813 as well.
Tagged with: 2009 California Grand Master • Larry L. Adamson
Filed under: California Grand Lodge • Grand Master Biography
Like this post? Subscribe to my RSS feed and get loads more!